SUGGESTED EXCURSION
The "Dolce Vita" in the hills of Rimini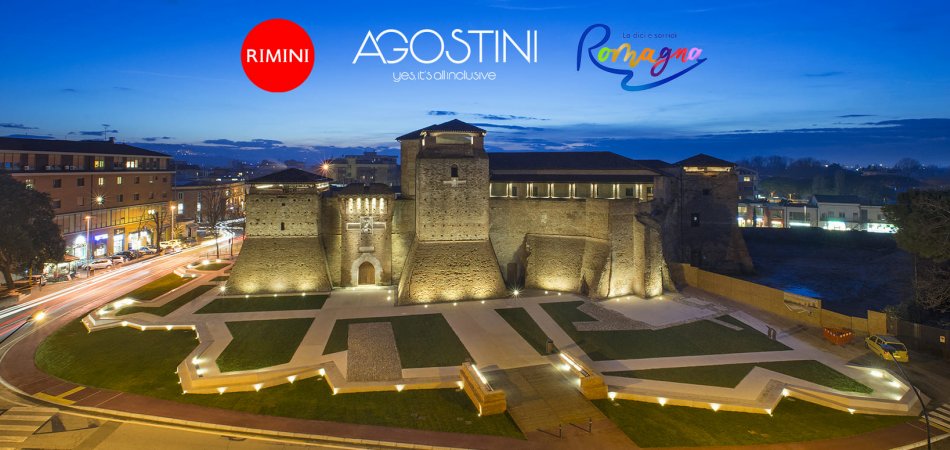 Rimini Riviera is not just a seaside area. The beautiful valleys formed by the rivers Conca and Marecchia sweep down to the coast at this point. The restful green hills delight the eye and the picturesque towns and villages contain a wealth of historic and artistic treasures. Of the municipalities there are five of the "Most Beautiful Villages in Italy" (Montefiore Conca, Montegridolfo, San Giovanni in Maragnano, San Leo and Gradara) and four Touring Club orange flags (Montefiore Conca, Pennabili, San Leo and Verucchio). During the Middle Ages and the Renaissance periods these are the lands which Sigismondo Malatesta, lord of Rimini and Federico da Montefeltro, duke of Urbino, fought to possess.
Fortresses and fortified villages are to be found at every turn in testimony to their turbulent past. Riviera di Rimini is the name under which this treasure trove of tourist opportunities in the province of Rimini is offered to the public.
The Adriatic Coast, with its soft sandy beaches and well-equipped bathing establishments is an ideal destination for a beach holiday. It is a single, large seaside resort, with many opportunities for entertainment and the chance to do a variety of sports for those who love active holidays and to
take part in major group events and entertainment, both on the beach and elsewhere.
The Adriatic coast and the inland Romagna area, especially characterised by top-quality accommodation together with the traditional hospitality of the local people, come together in perfect harmony.
In fact, the inland area is just waiting to be discovered, with its picturesque landscapes and protected natural habitats, rare artistic masterpieces and a wide selection of good food and traditional flavours that have made the cuisine of this agricultural area stand out.
Here, hospitality and good living go hand-in-hand with a host of cultural opportunities. All towns in the Romagna area preserve authentic artistic gems, offering fascinating destinations for cultural visits.